Old Vibes
In past days, Otaru Canal plays an important rule in Hokkaido. The canal was completed in 1923. On that era, Hokkaido, a land of eternal cold in Japan, experienced development on industrial field; the population also growing. Otaru Canal, which spread all accross Hokkaido, became the main path for goods distribution. Otaru port always filled with ships that readily transport goods to warehouses alongside Otaru Canal.
In 1986, one side of canal was restored and the other side was turned into land. The land were used as walking street and garden —it remains 'till today. Warehouses were transformed into museums, shops, and restaurants –it became tourist attractions today. Gas lamps were also installed along the street to lit up the night; creating different canal views than that on daylight. Tourists are suggested to visit Otaru Canal on both times. Sometimes, during the day, some artists are seen with their works alongside the canal.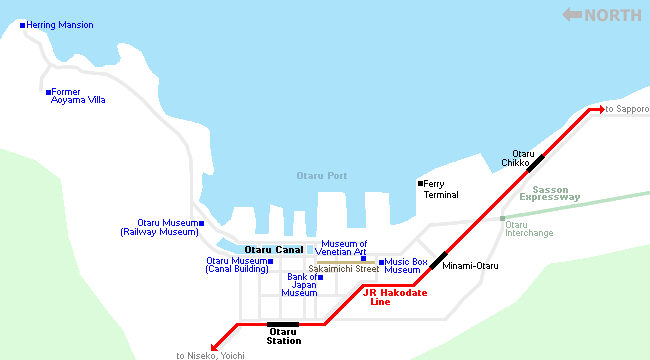 How to Reach
Walking. Only 10 minutes from JR Otaru station, passing down the sloping road. On winter, it's about 15 minutes.
By bus. Only 2 minutes from Bus Terminal. Find bus terminal not far from station.
Interesting Spots
Canal Plaza
It's right before Chuo Bridge.
Chuo Bridge
It's the first infamous Otaru spot you'll find if you walking straight on the road from JR Station or Bus Terminal.
Asakusa Bridge
It's on the other end of the canal. You'll find it if you keep walking alongside the canal from Chuo Bridge.
Otaru Canal Cafeteria
Tourist Information Center
It is right accross Otaru Canal Cafeteria. There is small cafe attached on its side, where you can buy hot snacks and drinks to comfort your body from cold. In front of it there are benchs and quite wide field to take rest. There is giant thermometer too to know Otaru temperature that day. It's 10 degree Celcius at day and 7 degree Celcius at night when we were there. Otaru was the hottest city from the other 3 cities that we visited on Hokkaido that time. Asahikawa was the coldest (-10 degree Celcius), and Sapporo was the middle (5 degree Celcius).
Local Artist and Postcards
Crawling Figs That'll Look Amazing on Autumn
Imagine those figs full of autumn leaves with various colors! Google it if you're curious! 🙂
Canal Boat Tour & Seagull
Tourist can take canal tour by boat. The driver making a big entrance by entering the boat by jumping from the bridge! The passengers are asked to get on boat first. The boat is launched, while the driver run towards the bridge. Just the right time when boat nearly enter under the bridge, the driver will jump from the bridge to the boat. Exciting, isn't it? I do not know the fare because we didn't take the tour.
Night View
By the way, have you read our story about Otaru famous desert, the seven layers rainbow ice cream? It's here:
https://pandabearjourney.wordpress.com/2018/04/10/tasting-otarus-7-layer-rainbow-ice-cream/

Happy reading! 🙂
References:
https://www.japan-guide.com
https://hokkaido-labo.com/